All About Henry Sheehan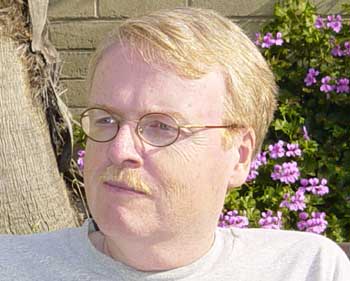 Henry Sheehan, past president of the Los Angeles Film Critics Association, has been a professional film critic for over 25 years and has been published in Film Comment, Sight and Sound, the Chicago Reader, the Boston Globe, and LA Weekly. Since 1986, he has been based in Los Angeles, where he currently appears as a regular panelist on KPCC-FM's "Film Week," an hour-long live discussion show broadcast Friday mornings from 10am to 11am. "Film Week" can also be heard on KPCC's web page. "Film Week" has been broadcasting intelligent film criticism for more than a decade under different names and in different time slots, and Sheehan is proud to say he has been with the show since almost the beginning.
From 1993 until 2002, Sheehan was the film critic of The Orange County Register — with a circulation of over 300 thousand, the biggest daily newspaper you never heard of, serving the region between Los Angeles County and San Diego County. For about 14 months in 2000-2001 and occasionally thereafter Henry reviewed movies for "Fresh Air with Terry Gross," the popular interview show carried by National Public Radio.

From 1986 to 1991, Sheehan was both film critic and film editor of the now-defunct alternative weekly, the Los Angeles Reader, carrying on the Reader's tradition of lengthy, thoughtful reviews that had been established by Sheehan's gifted predecessors Dan Sallit, Myron Meisel, David Ehrenstein, and Andy Klein (who was also Sheehan's successor at the Reader). At the same time, he was a also contributing film critic for the film industry trade publication The Hollywood Reporter from 1986 to 1993.
These were great years to be a film critic: Clint Eastwood was entering his greatest period of creativity, independent films were flourishing, the great exploitation boom was going through its death rattle (though few knew it was a death rattle; it could have been a creative spasm), and little companies (MK2 America; Circle; Galaxy; Angelika), were popping up to distribute foreign films in the U.S. When Sheehan left the Reader in 1991, he continued to write non-trade-style pieces contributing occasional feature reviews to the LA Weekly, and regular "revival of the week" briefs.
Between 1990 and 1993 Sheehan's work also appeared in the magazine L.A. Style, The Atlantic Monthly, Sight and Sound, Daily Variety and Film Comment. Sheehan's Film Comment articles, a two-part analysis of Steven Spielberg's movies entitled The PANning of Steven Spielberg and a piece on Eastwood's Westerns, Scraps of Hope, remain his most often cited works. (Both of these articles can be found in the Essays section of this website).
From 1983 to 1986, Sheehan was in Boston where he spent three years as a contributing critic at the Boston Phoenix. Prior to 1983, he was in Chicago, writing for the Chicago Journal and the Chicago Reader (which has often been a welcome port in a storm for Sheehan.
The great critical influence on Sheehan has been Andrew Sarris. Sheehan contributed an essay, "The One Sarris Paragraph that Changed My Career," to the book Citizen Sarris, American Film Critic: Essays in Honor of Andrew Sarris, edited by Emanuel Levy. Sarris's influence on Sheehan, as on so many others, is nearly incalculable. Those interested in Sarris, should first read American Cinema, then Citizen Sarris.
Membership in the University of Chicago's Doc Films was also crucial to Sheehan's critical development. During the early and mid-1970s (when Doc's brilliant president was Dave Kehr, who now writes for the NY Times), Doc had no faculty advisor (Sheehan never saw one anyway) and the University had no film studies department, neither critical nor practical. Doc members were thus free to watch movies – movies all day, movies all night – unhindered by either fashionable academic theory or careerist ambition. Many of the filmmakers now accepted as part of the critical canon were championed by Doc 30 years ago amid much snickering by establishment film scholars.
Doc was only a logical extension of the era's film culture, which Sheehan first encountered in Greater Boston, where he was born and brought up. The region bristled with with specialty movie theaters in the late 1960s and 1970s, his formative years.
The Brattle Theater in Harvard Square, which has had a revival/art/foreign booking policy for decades, and is still a popular venue, is probably the most famous. With its eclectic booking policy, (from early Renoir to late Godard to Bogie), the Brattle was a little principality of its own.
But the age was fecund with film of every specie. Even the scruffy (at the time) Harvard Square Cinema around the corner from the Brattle was a revival house (though certainly nowhere near the same category as its posh neighbor).
The Orson Welles Cinema on the outskirts of Harvard Square on the way to Central Square played an enormous role in the area's film culture (if only because it played The Harder They Come so often – so very, very often). It seems hard to believe now, but for its opening night presentation of Citizen Kane (was it 1970?), people lined up around the block to get in. For several years, it was inconceivable that a film lover wouldn't make at least a weekly visit to the Welles.
Further down Mass. Ave. were the twin Central Square Cinemas, though they almost didn't qualify as a twin, since Philippe De Broca's King of Hearts took up one screen for at least three years (no joke; there's some kind of record involved).
Over in Boston's Back Bay there was the Exeter St. Cinema, an architectural curiosity that had shown foreign films for many years (it has since suffered the indignity of becoming a restaurant). Up Commonwealth Ave. from Exeter St. and across from the Boston Public Gardens was the Arlington St. Cinema, which, with its foreign film policy, housed the local premiere of Bresson's Lancelot du Lac in 1974.
Up a few streets and down market from the Arlington was a cinema curiosity, the Park Square Cinema. Tucked off the lobby of a middle-aged office building, it was another place to see fare that was also playing at its sister cinema, the Kenmore Square cinema. The two calendar houses did much to reintroduce Preston Sturges to a popular audience. Another ephemeral closet of theater was Cinema 733, named for its Boylston St. address.
A few years later, Brookline's Coolidge Corner Cinema would come onto the scene and, after that, Kenmore Square's Nickelodeon. Those that still exist are great treasures; those that are gone are sorely missed.
Below are Sheehan's professional memberships, film juries he has sat on (or will soon sit on), and critical anthologies which feature his work.

• Los Angeles Film Critics Association (president 1993-1995)
• National Society of Film Critics
• FIPRESCI (Fédération Internationale de la Presse Cinématographique)

• Puerto Rico International Film Festival Critics Jury, 1994
• Los Angeles Independent Film Festival Critics Jury, 2000
• Palm Springs International Film Festival Critics Jury, 2002
• Chicago International Film Festival FIPRESCI Jury, 2003

• Produced and Abandoned: The National Society of Film Critics Writes on the Best Films You've Never Seen
– "Near Dark"
• Foreign Affars: The NSFC's Video Guide to Foreign Films
– "The Diary of a County Priest & Mouchette"; "Story of Women"; "A Nos Amours"; "Monsieur Hire"; "Sans Soleil"; "Sugar Cane Alley"
• Love and Hisses: The NSFC Sounds Off on the Hottest Movie Controversies
– "Henry: Portrait of a Serial Killer"; "Tie Me Up! Tie Me Down!"; "It's a Wonderful Life"
• Flesh and Blood: The NSFC on Sex, Violence and Censorship
– "Colors"
• They Went Thataway: Redefining Genre, a NSFC Video Guide
– "Defending Your Life," "They Live"
• The A List: The NSFC's 100 Essential Films
– "The Diary of a Country Priest," "The Bank Dick"
• Citizen Sarris, American Film Critic
– "The One Sarris Paragraph that Changed My Career"