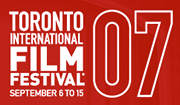 Getaway day usually means at least one movie before hot-footin' it to the airport, a rush from screening room to taxi stand that doesn't always pay off in artistic satisfaction.

So it was first with apprehension, then relief, then considerable pleasure that I found myself watching Gregg Araki's new opus, the dope comedy Smiley Face. Araki's movies always have something funny in or about them; he tends to address the audience with the same effective lack of subtlety that Moe's hand used to address Curly's cheeks in the Three Stooges shorts. More specifically, Araki is afraid neither of violent slapstick (or slapstick violence) nor of the technical exertions needed to make today's soft film colors match up to the flaring brightness of 1950s Technicolor.

And, either he or his screenwriter Dylan Haggerty or his marvelously talented star Anna Faris - though probably all three - know a lot about dope-smoking and its aftermath. Araki's movies tend to be about trips anyway, expeditions through consciousness that are mimicked by tentative journeys through the neatly plotted mazes of suburbia.

The trip here is one undertaken by a pothead-actress (everyone in Hollywood is a so-called hyphenate) named Jane. Jane is played by Faris, a mainstay of the Scary Movie series who had also done a few turns as "dumb blondes" in teenboy sex comedies. Though she's been funny enough, she's never before displayed the wacky brilliance that shines from her here. Dopeheads are notoriously dull except to one another, either giggling off into orbits of hysteria over something utterly incomprehensible or melting down into an even more irritating state of reassurance-seeking paranoia. Faris is able to make all that behavior spontaneously funny. At one moment, she goes off into an extended paroxysm of rippling laughs over the word appointment; why the character gets such a kick out of such an innocuous word remains inexplicable, but also contagiously funny. Similarly, an onslaught of paranoia in a dentist's waiting room - made all the worse when she bolts from there only to find awesome weirdness in the corridor - manages to combine those same, and equally mysterious, elements of obscurity and accessibility.

If it wasn't for Faris's performance, it would be easy to mark Smiley Face down as simply a director's movie. Whether he's harkened to the call of the Frank Tashlin loon on purpose, or merely absorbed it by watching Martin and Lewis films, Araki has responded with bold, comically ballsy compositions and the brightest colors he's used since The Doom Generation. The supporting characters are about as eccentric as Jane, but Araki wisely modulates the players' performances so that they don't compete with Faris's in terms of noise, whether vocal or gestural.

Not all this becomes apparent right away. For the first ten minutes, it seemed like Araki has a bad case of the whimsies and that Faris has started off too broad and loud. But trepidation evaporated as the action started getting a little funnier, a little funnier, and then really, really funny. Almost as if you were smoking dope, so I'm told.