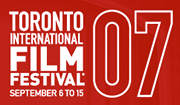 With only three screenings on your correspondent's personal schedule today, it was a good idea to start off with the movie version of an extra-caffeinated eye-opener. Hong Kong's Johnnie To has been popping eyes open for three decades now, so he certainly knows how to grab your attention.

Mad Detective, his newest (as of this minute, anyway - the man works fast), opens with a detective squad leader hacking away at a pig carcass and then ordering his newest subordinate to zip him into a soft-sided suitcase and kick it down two flights of stairs. The detective, named Bun (Lau Ching-wan), not only emerges woozy but conscious, but he manages to spout, "The ice cream vendor did it!" And apparently, he's right.

Mad Detective, as you might have guessed, is one of the loonier efforts from To (who co-directed with his frequent collaborator, Wai Ka-fai). Detective Bun is, indeed, clinically insane, given to interacting with hallucinations but also uncannily able to discern people's character flaws, secret motives, and guilt. The Hong Kong police department, however, can only put up with so much lunacy, so when Bun cuts off his ear and offers it to his chief as a going-away present, he loses his job. Four years later, though, that one-time newbie who had to kick the suitcase has been promoted to detective inspector and comes looking for Bun for help in solving what's believed to be a cop-on-cop murder.

To and Wai have come up with a suspenseful effort that, to a mildly reduced extent, boasts To's usual virtuosity with action set-pieces. But there's something about the concept that holds the picture back; it doesn't compare with his previous three films, Exiled and Election 1 and 2. Madmen, if they're not unadulterated villains, are recalcitrant characters. Madness isn't so much a complication of personality than it is a dearth of it. To and Wai avoid the commonest problem of becoming over-clinical, but they do tend to sentimentalize Bun. So, while it's fun, Mad Detective doesn't achieve the sneaky emotional breadth of either filmmaker's best work.

With Your Permission, from Danish director Paprika Steen is a broad comedy about frustrated ambition and - I kid you not - spousal abuse. Not the "to the moon, Alice" sort of feigned abuse, but the real cut-and-bruises thing. The main victim is a man named Jan, a petty tyrant who runs the cafeteria department on a large ocean-going ferry. But as dictatorial as he may be at work, at home he's not much more than a punching bag for his wife Anna, who displays nearly clinical examples of triggered rage. If you're thinking that since it's female-on-male violence that it should get a pass, don't count on the exception. When Jan's company sends him to a clinic for therapy, he's too embarrassed to admit to his victimhood, so signs up for a class for abusers. There he meets a couple of mechanics, one a serial beater of girlfriends, the other a persistent wife-beater. As far as the movie's concerned, these two are a pair of lovable scamps who end up Anna's ally.

Anna does turn out to have a legitimate beef with Jan; he's stymied her singing career because he's failed at his own. But really - spousal violence gags? Predictably, the movie segues from broad comedy to outright sentimentality as Jan and Anna, with the mechanics' help, patch things up, a tonal shift that manages to make the film even more distasteful. Steen began her movie career as an actress and starred in the first three Dogma films, The Celebration, The Idiots, and Mifune. Perhaps that led her to believe that violating taboos was a shortcut to emotional authenticity. Who knows? But whatever she thought, it certainly ended up with a singularly unsavory movie.

Mad Detective - minor though it may have been - was thus already looking better and better when I entered the screening room for Noah Baumbach's Margot at the Wedding, a clearly semi-autobiographical movie that punishes his mother the way his last film, The Squid and the Whale, did his dad.

Peer through the underbrush of Baumbach's clumsy technique, and you can only just make out his characters thanks to their malnourished dimensions. Their only definition comes through the way they interact, or think about, the director's stand-in, which here is an androgynous-looking pre-pubescent boy named Claude. Despite his young age - and even the fact that much of the action unfolds when he's not present - Claude provides the movie's interpretive and moral touchstone.

That old dramatic stand-by - the wedding/family reunion - provides the movie's dramatic framework, though in a sparsely populated format. Nicole Kidman (whose face looks strangely mask-like) stars as Claude's mother Margot, a neurotic New York writer who with Claude is attending her sister Pauline's (Jennifer Jason Leigh) wedding out in some wooded, seaside (or lakeside) town accessible from the city by train (the movie's not big on specifics).

Once that's established in the first few minutes, we're left with an hour and a half's worth of Margot-bashing. A user, a manipulator, emotionally needy to the point of grotesquerie, Margot comes across more like the murder victim in a country-house mystery than as the subject of a family portrait. Even the hows and whys of her emotional degeneracy are left unexamined, the better to just kick her around for being that way.

Baumbach commits additional sins; he uses an old, dying tree as a symbol of family and manages to elicit a wan performance from Jack Black. But it's the calculated diminution of his central character - shorn even of explicable rage - that renders Margot at the Wedding so trivial.

Yes, Mad Detective was very fine.