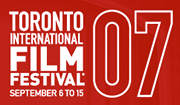 Nothing like a bit of light entertainment to start the day, though it turned out that the absence of light was what the Spanish-made (though English-dubbed) animated feature, Nocturna, was all about. The feature debut of Adrián Garcia and Victor Maldonado, the 83-minute movie is about the adventures of a little orphan boy named Tim, who can only assuage his fear of the night by gazing at one particular star. When that star flickers out - and the rest of them are extinguished one-by-one - Tim enters the magical world of the night's managers, oddball creature who, among other things, mess up your hair, steal single socks, and clip holes in your blanket, all while you sleep.

Actually, the plots a bit more complicated than that, which leads to Nocturna's one serious fault: An excessive need for spoken exposition. Luckily, a lot of those premises emerge from the houses of The Cat Shepherd, an oversized and harried being that looks like a stuffed animal whose weight has shifted away from his legs and head and almost entirely into his torso. The subsequent exaggerated roundness of his body is typical of all the living things which, with a single exception, are composed of circles, oblongs and other angle-less forms. For the daytime world, Garcia and Maldonado keep the backgrounds in soft focus (that is, they draw them so they look like soft focus), sharpening things up only when Tim enters the night world. This bit of cleverness subtly endows the fantastic with a more naturalistic hue than the real, an acknowledgment of the imagination's precedence which eventually leads to Nocturna's unlikely villain. Add in an unusual palette of greens, grays, yellows and soft blacks, and you wind up with some gentle, if occasionally long-winded, pleasures.

Guy Maddin's My Winnipeg is not only one of the festival's best films so far, but also the one most full of surprises. Who would have thought, for example, that the writer-director of Tales from the Gimli Hospital and Twilight of the Ice Nymphs was a rabid hockey fan? Well, Maddin is still nurturing a grudge over the departure of the NFL Winnipeg Jets for Phoenix, while still celebrating the Jets' forerunners, the minor-league Maroons and, in a more Maddinesque mode, showing us a team of aged former Maroon and Jets greats who get together for nighttime games in the half-ruined Winnipeg Arena.

Winnipeg is not only Maddin's hometown and not only the cold plains capital where he still resides, it's also a city, he asserts, that people have trouble leaving. So Maddin loads himself, some card-playing associates, and us aboard an old train which steams through the night, the city and Maddin's memory. A lot of those memories involve his family, and especially his domineering, passive-aggressive mother, who shows up to play herself. The mythmaking starts right by the family hearth, with Maddin's deadpan assertion that mom was the regular co-star of Winnipeg's only locally-produced TV drama, "The Man on the Ledge," on which an over-sensitive man, sending some insult, would crawl out on to an apartment window ledge and threaten to jump.

There's also a great deal of believable, if eerily-presented fact. Maddin - who hires a local cast to play his sister and brothers - stages a scene of a regular family trauma, trying to straighten out the hall rug. From there, he segues with some weird, but appropriate logic, to a history of Winnipeg's violent general strike of the 1920s, and then into of an account of a local Catholic girls school and his first encounter with feminine allure when he innocently trespassed there at the age of 3.

Most of the film is shot in the smeared-focus, black-and-white style that often makes Maddin's films look like celluloid remnants of a poorly-stored film can discovered in a long-shuttered prairie movie theater. He also uses, when self-prompted, silhouette marionettes shot with colored backgrounds when recounting the city's most infamous public events, a bit of artificiality which, as obviously intended, lends that history a strange immediacy.

My Winnipeg seems to roam and ramble through Maddin's head and out into Winnipeg streets propelled by nothing more than whim. But, by the end of the movie, you realize you've just watched a tightly-structured move from an unbound, but not irrational, imagination.

Alas, these first two features were followed by two cinematic horrors. Chaotic Ana, from Spanish director Julio Medem, is one of those celebrations of the eternal feminine that can only be made by a misogynist trying to put something over his audience or, more likely, himself. Manuela Vellés stars as the title character whom we first meet when she's living in a seaside cave with her German artist-dad (it's a modern-day film so get ready for your allegories). Ana is a naïve sensualist, which we know because she splits her time between painting colorful "primitive" canvases and skinny dipping. City gal Charlotte Rampling offers to enroll Ana in her own private art school, where she'll be able to live for free as long as she creates. At the art school, a great deal of pretentious "casual" chat is given over to discussions of sexuality while Ana begins a passionate (so we're given to understand, though passion seems to be beyond the expressive talents of the actors) affair with a Berber biologist-artist savant.

The real news, though, comes when hypnosis reveals Ana has lived many, many lives stretching back at least two thousand millennia. Yeah, yeah. Well, this and that, this and that, Ana visits an American Indian pueblo (where Rampling, with unintentional hilarity, shows up out of nowhere) and goes to work in a hole-in-the-wall patisserie in lower Manhattan. Here she finally figures out she's the embodiment of the earth's womanly something, a discovery which Medem goes to some lengths to show leads to the disappearance of her pubic hair and the need to poop on the faces of Bush administration apparatchiks. OK, that last bit is understandable. But Chaotic Ana's tedious nonsense is nothing more than Medem's unforced confession that his idea of the metaphysical feminine principle best depicted in the figure of a hot young babe.

The Last Lear, from Indian filmmaker Rituparno Ghosh is one of those movies where a distinguished older actor plays a distinguished older actor who is, sniff sniff, dead by the end of the movie. Unfortunately, it takes 130 minutes to make that journey in this case.

The real actor is Indian movie star Amitabh Bachchan who stars as Harish Mishra, a faded star of the Indian stage. Harish, who goes into windy recitations of Shakespeare with demoralizing regularity, is importuned by a young hotshot director to star in his first film, a turn of events which depends on the wholly improbable assertion that Harish knows nothing - and I mean absolutely nothing - about how they make these nickelodeon thingamajigies. Figuring, I suppose, that he might has well travel all the way into the land of it-would-never-happen, Ghosh sets all this as part of a flashback narrated by Harij's longtime live-in lover and his beautiful young co-star, who don't get along at all when they first meet (whaddy know!) but who soon sister up (whaddya know?). Oh, yeah, and the whole thing is shot as if it were made for TV, an unintentional irony, one could call it, for a film about filmmaking.

No scorn at all for The Edge of Heaven, Fatih Akin's first fictional feature since his Head On won the top prize at Berlin in 2005. No, this is a sad disappointment from a filmmaker who was able to startle filmgoers with a success that matched psychologically well-mapped characters with a twisting, if ultimately plausible, plot.

The Edge of Heaven is nearly the exact opposite, with a sextet of stereotypical cut-outs put through the paces of a plot which is one mere contrivance thrown willy-nilly atop another. We're confronted with three sets of single parents and single children, most living in the German city of Bremen when first we meet: A crusty old retired worker, and ethnic Turk, and his assimilated, prissy professor son; an ethnic Turkish prostitute, whose radical daughter has disappeared into the political underground back in Istanbul; and a middle-class German woman (Hanna Schygulla, delivering the movie's only decent performance) and her university-student daughter.

That the lives of all six become interwoven goes without saying; that they do so with blatant, agenda-driven manipulation by Akin must, unfortunately, be emphasized. For some reason, the director felts the need to go down the list of contemporary liberal concerns and check off nearly every single one as he took shot after shot. Underlying the list is the classically liberal emphasis on individual rights, including both the political and the personal. But this isn't drama, it's recitation. By the time the Turkish and German girls, on virtually their first hello, commence a lesbian romance it seems inevitable, neither spontaneous nor passionate. To make things as bad as possible, Akin divides the picture into three parts separated by chapter headings, two of which openly announce the oncoming deaths of one of the characters (why oh why?)

As far as shooting and cutting go, Akin still evidences his basic filmmaking skills. But, inevitable, a false conception will undermine a felicitous style, and The Edge of Heaven lumbers under many false conceptions.