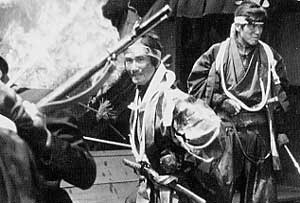 The
25th Moscow International Film Festival
puts itself into bind with its competition section, requiring that only world premieres (outside the films' native countries) be submitted for a festival that begins only a month after Cannes.
But as is the case with so many festivals outside the Big Four (Cannes, Venice, Berlin, Toronto) or which don't specialize in one species of film (a la Sundance), Moscow 2003 has to be judged in relative terms. For one thing, it has to serve two audiences: The local Russian viewers who wish to sample fare from abroad; plus foreigners who have traveled to the city in search of new vistas in Russian filmmaking.
Yours truly, as a member of the FIPRESCI International Critics Jury, perforce was a member of both audiences, so could judge that both audiences were well, if not lavishly, served. Additionally, I had the pleasure of meeting young Russian critics and discovering new perspectives on world cinema. Particularly the existence of an anti-anti-Americanism (not to be confused with pro-Americanism), which was oddly reminiscent of the anti-anti-communism of the Cold War U.S. This was more than an ideological position, but a critical tool in analyzing the postures of various films and filmmakers.
The Prize of the International Jury went to Skagerrak, an English-language film from Danish filmmaker Soren Kragh-Jacobsen. We also gave an optional Special Mention to Koktebel, the debut effort of two young Russian writer-directors, Boris Khlebnikov and Alexei Popogrebsky. These films are of sufficient significance that they are reviewed singly elsewhere on the site.
There were two other Russian films in the competition section, both of considerable interest if less successful than Koktebel.
The Stroll was directed by 51-year-old Alexei Uchitel, a longtime documentary maker who began making features in 1995. He shot this latest film on digital video, the technology which, as we all know by now, allows for long, unbroken takes using lightweight cameras. Or, as you might say if you saw The Stroll, Yikes!
There is an underlying logic to Uchitel's technique. The action unwinds on the streets of St. Petersburg beginning when a young man in his 20s picks up a young woman. They banter and the sparks begin to fly. Then – in what, God knows why, is an all-too-familiar blunder – the young man decides to introduce his newfound girl to his best friend. A kind of Jules-et-Jim-in-an-afternoon ensues which is so psychologically well-attuned, and which incorporates the city of St. Petersburg so well, that it's more than enough to sustain the film's entrancing mood. Though the irritation caused by the over-insistent long-takes subsides only slightly.
Problematically, The Stroll resolves itself with a twist ending that, according to my Russian colleague on the jury, is driven at least largely by socio-political point-making. Not knowing this weakened the film for me and I'm not sure knowing it would have made it any stronger.
The third and final Russian film in the competition section was Petersburg, an animated work listed at 52 minutes but which may have come in at 60 minutes. Many colleagues told me that the film's 22-year-old director, Irina Evteeva, has done better work in the short format, especially "The Clown," which has been shown around the world. Admittedly, Petersburg draws far too much on literary and classic cinematic sources, with its tale of a workaholic CGI animator undergoing a marital crisis. Thematically and dramatically, it does become turgid at times, indulging in hopelessly unsuccessful attempts to merge personal crises with St. Petersburg legends.
But Evteeva's technique is so ravishingly fascinating – at least to a first-time viewer – that its shortcomings hardly matter. The young filmmaker eschews computers in favor of a painstaking, craftsman's approach, altering cinematographic images (her own and vintage) by painting on glass frames with bold lines and upsettingly bright colors. The result is, to say the least, startling and provides far more emotional kicks than her blunted intellectual thrusts.
Other films in competition worth noting included Mike Hodges's I'll Sleep When I'm Dead. Another stylish film noir from the talented English filmmaker – now 70 years old – its plot is something of a twist on Hodges's Get Carter: A former gangster who has retreated to a hermit-like existence in the forests of Wales returns to London to avenge the murder of his brother. Though the action is peppered with the violence you'd expect in a crime thriller, Hodges suffuses the film with sadness and ends it on an elegiac note. Ultimately the film lets itself down as a piece of storytelling, but as a mood piece it's quite nice.
Dancing in the Dust is what can now be described as a "typical" Iranian film, although some observers of that nation's cinema may find it mildly retrogressive even in its apparently "liberal" attitude towards women. A young man is torn when his family pressures him to break off his engagement with his fiancée after they discover her mother is/may be a prostitute. He hits the road and teams up with an itinerant snake catcher who sells the reptiles to herpetologists who milk them for anti-venom. Thirty-year-old Asghar Farhadi's film occupies that gray zone between not-bad and undistinguished.
Save the Green Planet is a semi-insane film from South Korea, which would have been much better if had been full-out mad. A meek young man believes aliens from the planet Andromeda have been plotting to take over earth and that their principle agent on earth is a wealthy industrialist. He kidnaps the millionaire and, with his girlfriend, hold him captive in an underground lair where he submits him to brutal torture in efforts to make him confess. Up to a point, the film immediately resembles a Korean Repo Man, though it shifts unexpectedly into a Korean Silence of the Lambs, complete with an obsessive detective (though a disgraced older man rather than a neophyte young woman).
Director Jang Jun-Hwan uses color well enough (especially when it comes to blood and body parts) to have snagged the Kodak young director prize at Moscow, and, to say the least, he has an oddball sense of humor. But his film – which eventually veers back into Repo Man territory after a minor bloodbath – demonstrates absolutely no talent for narrative, pace, or construction. None. Zippo. That's a significant problem for a two hour movie.
Japanese filmmaker Kaneto Shindo, of Onibaba and Naked Island fame, entered a movie at age 91. The Owl is set in a single room in what must be the 1970s, though the time is never specified. It features a mother and teenaged daughter, the lone inhabitants of a pioneer village set up for returning Japanese settlers of Manchuria. Once considered patriotic heroes, then mere refugees, most of the villagers have moved on or died, but the widowed mother and daughter haven't the money to do so, and are slowly starving to death. They then hit on the idea of murdering their male visitors – construction workers from a nearby dam, an electric company worker, etc. – and stealing their money for food and an escape fund.
It's not a bad idea, but Shindo gives the ladies far more visitors than they actually require for him to make his point and an enervating fog of repetition settles over the overlong film soon enough. Shinobu Ootake and Ayimi Ito give very good performances, though, and Shindo is certainly still working at themes that have preoccupied him over a long career.
Finally, to round out discussion of the competition films, it is necessary to mention The End of the Mystery. It's necessary because the celebrity jury gave Miguel Hermoza's film its top prize, and it is not merely a mediocre film, but a truly bad one. Set in present day, with flashbacks to 1936, it posits that the playwright and poet Federico Garcia Lorca survived his execution by the Fascists, but had a serious injury. He became a homeless man wandering the streets until rediscovered by the now-elderly man who had briefly cared for him when, as a young shepherd, he'd found the injured man wandering in the desert. Yes, a dubious premise, and handled crudely by the filmmakers.
Naturally, the Moscow International Film Festival offered a section of Russian films; disappointingly, almost none of the entries were subtitled. This is a serious error of judgment on the part of the filmmakers if they expect the festival to turn into a showcase of new Russian films. The best may have made their way into the competition section, but international observers don't necessarily want to see just the best. They want to see it all.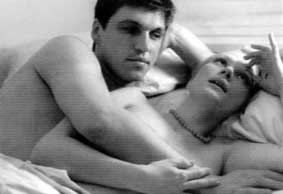 Among the films that was subtitled was a national hit, The Sky, the Plane, the Girl. The movie is based on a play, "104 Pages About Love," that had previously been made into a film in 1968, Yeshchyo raz pro lyubov (Once More About Love), which had been a popular hit itself.
This time out the movie has been fashioned as a vehicle for the star Renata Litvinova by Litvinova herself, who wrote the script and produced the movie along with Elena Yatsura. She also hired the director, Vera Storozheva, which makes The Sky, the Plane, the Girl an entirely female production.
This might come as a surprise to Western viewers, since Litvinova's character, a flight attendant named Lara (called a "stewardess" in the festival catalogue's description) hardly seems a paragon of independence. She's flighty (no pun intended), dreamy, and eternally lovelorn, even when, in the movie's first scene, she meets what appears to be the man of her dreams. He's masculine, daring journalist Georgy, on his way to cover a dangerous story somewhere on the fringe of the Russian frontier. They banter, but the attraction is immediate and soon they have a hot relationship going. But given the nature of their jobs, it's only a now-and-then relationship, too, and this causes Lara much regret, though it also gives her many opportunities to muse aloud, either touchingly or comically, about the vagaries of love.
The idea that Lara might be some sort of subservient character, though, is completely undermined by Storozheva's shooting style, which relies heavily on close- and closer-ups of Litvinova. The actress could probably arrest a camera from the other side of a meadow. In these looming views she's utterly dominant. Yet she also has real star pizzazz – she's a peculiarly Russian Audrey Hepburn, if you will – and her particular brand of whimsy, if you are taken by it, isn't punctured by the ever-hovering lens.
The well-educated young Russian woman who accompanied me to the screening told me she believed the Litvinova captured the "true soul' of Russian womanhood in "The Sky, the Plane, the Girl." Having seen the reaction of the audience – many of whom must have been seeing for the second or third time – others must share that opinion.
Outside the competition and Russian sections were the various films making this year's round of film festivals, most of them coming soon to a theater near you. One likely not to – and a shame it's not – is the samurai film When the Last Sword is Drawn. Forty-seven-year-old Yojiro Takita's film is set during the waning months of the Tokugawa Shogunate and is based around the lifelong rivalry between two samurai. One comes from a poor background, scrounges for every coin he can, and hoards his money, while the other is a disdainful aristocrat. Before the 143-minute movie ends, the two end up on a virtual suicide squad, defending the Shogunate with ancient weapons against the modern army of the resurgent emperor. Takita follows tradition and doesn't turn his camera away from the consequences of violence; certainly not with the sight of a headless corpse staggering around. But he has a biting, ironic tone of voice that is the movie's ultimate distinguishing characteristic.