THE 38th CHICAGO INTERNATIONAL FILM FESTIVAL, OCT. 4-18, 2002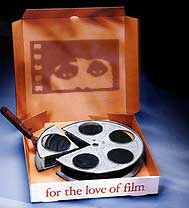 Yours truly was at the Chicago International Film Festival for nine days (Oct. 4-13) early in October, serving on a five-member critics jury organized under the auspices of both the festival and FIPRESCI, the international critics organization. We sat in judgment of films made by directors working on their first or second features, a dicey category that inevitably includes the overworked and underdone.
The critics jury evidenced both its youth and social conscience, as well as some cinematic acuity, in bestowing its award on El Bonaerense, an Argentine film which is the second effort from 32-year-old Pable Trapero. There is no question that Trapero's film is not only well-directed, but that the filmmaker himself is one of the most promising to emerge from a country that for too long has produced, on the one hand, strenuously overwrought art films and, on the other, flimsily disguised Hollywood counterfeits.
That's not to peg El Bonaerense as an original. Longtime observers will immediately recognize the film as a familiar output of a certain type of national cinema which emerges at a certain moment of national development. Zapa, a locksmith living in an isolated town way off in the Argentine hinterlands, is set up as the fall guy in a minor safecracking. Through the efforts of an uncle, a retired policeman, Zapa is able to avoid jail time, but only by traveling to Buenos Aires and joining the city's police force. Once enlisted, he enjoys both the camaraderie of his fellow officers and the patronage of a senior officer, but he's also exposed to an institutional corruption that dwarfs the petty criminality of his village.
If this sounds like an overly political reading of the film, Trapero doesn't give you many other options. Zapa, played by Jorge Roman, is considerably more than a cipher in his presence on screen, thanks to a natural tension in the actor's persona. But in his actions, Trapero doesn't give Zapa much more to do beyond his police (and hence didactic) labors than engage in a blatantly absurd love affair with a senior police officer. And even these are meant to display the distorting effects official corruption have on even a relatively innocent personality. In the end, its Trapero's purely kinetic skills and political commitment which impress. His understanding of personality and psychology have a way to go.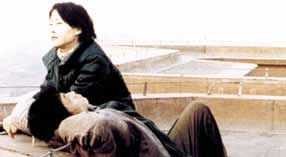 Chen Mo and Meiting, on the other hand, was a bit of a shocker. Shot on 16mm (blown up to 35mm) by Beijing's 33-year-old Liu Hao, this short (78 min.) feature begins like a typical festival film: A poor, hard-working hero with a sick brother back home in the country; a giggly heroine with a soft spot for tough guys; hand-held cameras, all location shooting. No sooner has the film begun than you expect the usual urban sentimentalities. But after an introductory narrative, the film quickly enters a strange and intriguing realm of perverse psychology. Chen Mo and Meiting turns out not to be about simple love among the downcast, but about the struggle to love when identity is fractured, perhaps beyond repair, by social turmoil and economic oppression.
A street ruffian, Chen Mo, steals a carton of flowers from a licensed vendor in the hopes of selling them himself. Once he evades his pursuers, he leaves them temoporarily in the care of a giggly hairdresser, Meiting, whom he seems to have had an eye on for a while.
Just before Chen Mo shows up with the flowers, Meiting had been talking about business with her co-worker, with whom she also shares a tiny room in the back of the salon. It seems there's some tension between Meiting and her boss, though what exactly it is is unclear. Gradually, Chen Mo and Meiting get to know each other a bit, and Meiting gives Chen Mo a head massage, a specialty of the house.
But one day, when Chen Mo shows up for another treatment – more chaste flirtation, really – he watches as Meiting goes into the backroom with a customer. When he hears her cry out, "I'm not that kind of girl!" he races in, grabs her, and runs out the door. For all the world, it looks like and old-fashioned rescue.
This, as it turns out, is merely the entryway to the film's core, where Chen Mo and Meiting set up a peculiar household. Chen Mo struggles to maintain a "normal" relationship. He searches for the best housing he can afford, encountering scrounging landlords even in the most dire lodgings. Through a friend, he gets a job delivering bottles of beer in the city, getting up early every morning to make his rounds. But Meiting's response is peculiar to say the least. While the chances of this movie finding distribution – and hence of you, reader seeing it – are slim, I can't give it away. Suffice it to say that the person she appeared to be at first undergoes the first of what appears to be slippage.
Eventually, Chen Mo and Meiting erupts with a dramatic event that not only resets the relationship between the protagonists, but forces you to rethink what's been going on the whole movie; and the series continues right up to its climax. It's a remarkable coup for a movie that looks like it's going to settle for curbside whimsy. And while it's tough to judge acting in a language one doesn't understand, Wang Libo and Du Hua'nan project just the sense of neurotic need the movie required.
These were not the only two movies to show promise or capture the fancy of the jury. 27-year-old Slovenian filmmaker Hanna A.W. Slak's made human mystery out of melodrama with Blind Spot, the story of a young woman who seemingly throws her entire life away to care for a heroin addict who has escaped from a court-enforced drug treatment regime. Slak's movie has an obvious social justice angle, but it doesn't lapse into mere journalism nor wholly obscure the strange humanity at its center.
In other hands, A Little Monk might have been easy to dismiss as sentimental rubbish. A cute little monk, about 8 or 9, longs to leave the shrine where he and a 20-year-old are the only students, and search for his long-gone mother – or at least live as a modern boy. But his strict master won't even hear of it and, in any case, there's no one willing to adopt him. But Kyung-jung Joo, who finished the film at age 43 after working on it for seven years, has managed to fill it with unexpected deposits of feeling and beauty. There's not a cheap moment in the whole of its 102 minutes and no one can blame the many people who left the show with tears on their cheeks for being so moved.