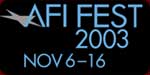 Los Angeles has been mucking along with a series of unsatisfactory international film festivals for some years now. Held under the aegis of the American Film Institute and called, imaginatively enough, AFI Fest(s), they have suffered from a lack of adequate financial support from local businesses. This is a shocking state of affairs in a city that spends so much time boasting of its importance as a world trade center and as the world's movie capital.
The big studios dismiss AFI Fest with an all-but-visible smirk, the music industry is mute, the transportation and shipping industries lumber away, aerospace and airlines fly away, and, well, I'm running out of puns but you get the idea. New York, San Francisco, Seattle, Chicago, Houston and even Palm Springs each manage to put together festivals that leave Los Angeles in the dust (at various lengths, to be sure), a situation that embarrasses only the town's small anti-Philistine contingent.
This is no fault of the organizers of AFI Fest 2003, who have done the best they could with limited resources. Setting up shop at the festival-friendly ArcLight Hollywood Cinemas at Sunset and Vine, the festival has put together a modest but worthwhile showcase of international and domestic films, heavy on good documentaries. Below are some quick descriptions of a few previewed films (or films seen at other festivals). If you need to know when the movies are playing or how to purchase tickets, you should visit www.AFI.com.
Leading off with the festival's strong suit, documentaries, we find a discovery by yet another young member of Iran's amazing Makhmalbaf family. Daddy Mohsen went from revolutionary firebrand to anti-clerical firebrand over the course of his career, lately making films (Kandahar) that highlight the plight of Afghanis. His daughter Samir, who is a veteran director herself at only 21, has just finished a film set in Afghanistan, Five in the Afternoon (showing in the festival). Joy of Madness is a behind-the-scenes documentary about Samir's frustrating attempts to cast non-professional Afghanis made by her 14-year-old sister, Hana.
While the whole idea of Hana's project may sound a bit precious, her work turns out to be quite moving. Samir's wooing of a middle-aged mullah and a young woman to appear in her film keeps running up against a barely suppressed fear that someday the Taliban will return and revenge themselves on anyone who would be "unreligious" enough to appear in a film. Getting a look at Samir in action may make you wonder how anyone could ever say no to her, especially the relatively cowed mullah and demure woman, but that contrast only serves to dramatize the lingering fear in Afghanistan's population. The result is a fine film that runs from the comic to the politically provocative.
Girlhood, by Liz Garbus, is one of those documentaries that combines luck with the ability of the filmmaker to take advantage of it. Garbus spent three years following two teenaged inmates of a Maryland penal institution for female juveniles as they made their way through the system and back to their Baltimore neighborhoods. The luck came in that Shamae and Megan, the two girls, have winning personalities and compelling stories. The skill gives us telling detail and rounded portraits. This is a superior film, one of the best to play Los Angeles this year.
She Got Game is far less intense than the previously mentioned films, but is nearly as revelatory in its way. Bobbi Jo Krals and Abbey Jack Neidek set out to chronicle the off-court stages of the women's tennis tour and do so competently enough when it comes to, say, interviewing Serena Williams or capturing Jennifer Capriati in an unhappy encounter with the press. But their film's real reward comes courtesy of Canadian professional Sonya Jeyaseelan, who never got higher in the ranks than the 40s and who, at a banged-up age 25, may be reaching the end of her career. Jeyaseelan has a winning personality and fine sense of detachment when it comes to her status, both as a pro and a person. Plus, her story has a poignant side; her father was such an abusive taskmaster, that she had to sever all contact with him for years just for the sake of her mental health. Thanks to the filmmakers' concentration on this intelligent and athletic young woman, the film narrows down from an abstract consideration of an ongoing event to a more intriguing portrait of a person under stress.
Double Dare is a must-see for anyone with an interest in the movies. Amanda Micheli's highly enjoyable feature is about two movie stuntwomen, Jeannie Epper, a second-generation Hollywood veteran, and Zoe Bell, a young New Zealander just starting out. At first, the movie works on parallel tracks. We get a sketch of Epper's distinguished career, her family's long reach throughout the business, and her attempts to keep working as she passes age 60. Meanwhile, down in New Zealand, Bell comes to terms with her first stretch of unemployment as her first and only job, stunt-doubling for Lucy Lawless in Xena: Warrior Princess ends with the show's cancellation. Then the stories converge, as Epper becomes a mentor to Bell, shepherding the young woman as she tries to break into Hollywood. A good story with lots of stunts, Double Dare is better than many of the shows the two women have worked in.
How much you like Aileen: Life and Death of a Serial Killer will depend on how you respond to its director, Nick Broomfield. Over the years, Broomfield has carried the torch for cinema verité, making himself an integral, onscreen presence in films that invariably tackle controversial personalities and subjects (Heidi Fleiss: Hollywood Madam; Kurt & Courtney). This film is actually a follow-up on an earlier documentary, Aileen Wuornos: The Selling of a Serial Killer," which he made in 1991. Wuornos is a self-confessed hitchhiking prostitute who was convicted of killing seven men who picked her up on Florida highways. Now destined for the electric chair, Wuornos has allowed her appeals lawyer to subpoena Broomfield and part of his earlier film in which she confides that her confession to the murders was a lie. Broomfield naturally used the occasion to make another film, which includes new interviews with Wuornos and follows her case through to her execution. As is always the case with Broomfield, it's hard to take your eyes off the screen, though it is undeniably sensationalistic.
Beauty Will Save the World is a more easily objectionable case. New Zealander Pietra Brettkelly documents a beauty pageant, Miss Net World, in Libya. The Libyan government sees it as a tourism and good will stunt, the producers as a quick money scheme, model agency honchos as more quick money, and the models as, well, who knows what they saw it as. Unfortunately Brettkelly and a pack of cynical English journalists seem interested in making those models, especially an intellectually lightweight American, seem like daft pawns. True, their victims appear all too willing to cooperate in the caricaturing, but that's hardly an excuse for using big fat fish in a very small barrel for target practice.
A better, if oblique, look at beauty comes courtesy of the feature film Osama, Afghanistan's Oscar submission. Sidegh Barmak's movie revolves around the efforts of a 12-year-old girl to disguise herself as a boy during the reign of the Taliban so that she can enroll in school and escape the strictures of enforced domesticity, an effort suggested by her educated grandmother. Barmak's Iranian film education is apparent from the distancing elements apparent from literally the first shot in the movie: While watching a boy sell good luck charms, suddenly the cameraman's hand, full of cash, is thrust from beneath the frame, as he prods the boy to run after a female demonstrators fleeing from Taliban thugs. What really sets the movie apart though, is its stunning beauty. Barmak's shots of his young heroine look like Ingres portraits, they are so enrapturing and luminous. Nor is this mere pictorialism; the beauty reflects on a peculiar type of femininity, not that defined by men, but by a spirit within. There are hackneyed elements to the story, but, again, the strong elements more than compensate for the weak ones.
The Coast Guard should provide some bullet-laden pleasures for those with a taste for Korean films – or those who would like a taste of that nation's output without taking a full dunk in a bloodbath. The feature opens with a young couple sneaking onto a beach for an episode of lovemaking. Unfortunately, the area has been cordoned off for security's sake, and when a soldier sees the shadowy figures on the shore, he blasts away. Director Kim Ki-duk shows us the male half of the couple, mid-flagrante delicto, getting torn into bits as his girlfriend screams beneath him. Naturally, she goes totally mad, but so does the soldier who fired and the film charts the consequences of the fatal error. Americans may find the set-up too over-the-top to be taken seriously, but the movie actually follows through fairly soberly, though that's not to say somberly. Not without faults, but a film worth catching.
The same can be said of the American independent film, Happy Hour, whose intelligent and dialogue-rich screenplay, by Mike Bencivenga and Richard Levine, rescues it from Levine's pedestrian, TV-like direction. Anthony Paglia, at his best, stars as an alcoholic advertising executive and on-again off-again writer who starts a potentially, but only potentially, redemptive love affair with a schoolteacher played by an excellent Caroleen Feeney. Actually, the well-wrought lines are handled adroitly by the entire cast, which includes Eric Stoltz in the role of the self-deprecating best friend. A film for those who are willing to sacrifice a little emotion in characterization for a little more intelligence in same. Unfortunately, the plot ends up mawkishly, but hey, it's a festival movie.
Speaking of "festival movies," another sub-species involves those in which nearly all the characters take all their clothes off. Let me introduce you to Sexual Dependency, the Bolivian Oscar entry, despite the fact that about half its action takes place in the U.S. and features and American cast. A series of tag-your-it vignettes featuring attractive young people having – or enduring – crucial sexual experiences, the film is not particularly good. On the other hand, it's not particularly bad, either. One thing to keep in mind is that, though nearly every encounter is heterosexual, director Rodrigo Bellott is more interested in the nude male body than the female.
Meanwhile, over in the Czech Republic and, director Jan Hrˇebejk steps back into the early 1980s with Pupendo, his parable-like tale of a sculptor who has taken to turning out ceramic piggybanks rather than succumb to the demands of official statuary. Hrˇebejk surrounds his rumpled hero with the usual collection of mentors, frustrated family members, protégés, and sell-outs and the action proceeds apace. But during the era at issue, Czech film was famously able to satirize, at least by implication, these selfsame issues. So why do it all over again, at a 20 year remove, seems puzzling and, if not stale, moot.
From Argentina comes Extraño, Santiago Loza's taciturn drama about a surgeon who has given up medicine and nearly given up life until he meets a pregnant woman. Why he's given up remains as mystery, as does his attraction to his new-found fecund friend. For that matter, we don't now why the woman gives him a second look. I for one, never worked up the curiosity to want to find out.
Naughty priests seem frequent grist for the cinematic mill lately, and one of them makes for half a good movie in the Irish Conspiracy of Silence, written and directed by John Deery. The good half features a novice priest who is expelled from the seminary on the grounds – false as it happens – that he didn't report the sexual advances from a fellow seminarian. Deery has gotten ahold of some paradoxically solid ambiguities here, qualities that would have served him well in the intersecting portion of his film. Unfortunately, that involves the suicide of a gay priest and a whole bunch of bromides so simplistic as to make the most simple-minded sister blanch.
Another Irish film in the festival, In America, is bound for theatrical release in just a couple of weeks, so I won't go into beyond saying that Jim Sheridan's film requires not three, but four hankies at its finish, so come prepared.
Finally, there's Denis Arcand's French-Canadian The Barbarian Invasions, yet another Oscar admission. It's a follow-up to the director's The Decline of the American Empire of 1986, a movie about naval-gazing the Montreal haute-bourgeoisie that found much favor among its U.S. counterpart class. Frankly, I found the first film insufferably smug. This one is no different.