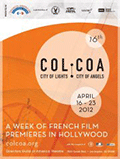 This year's COLCOA, Los Angeles's annual glimpse of contemporary French movies, had a significant similarity to last year's: Both featured masterworks by Benoît Jacquot. 2011's Deep in the Woods (Au fond des bois) was an example of the filmmaker's occasional forays into the psychological extremes of female sexuality. This time out, Farewell, My Queen (Les Adieux à la reine) follows an equally acute, though less provocative line.
Léa Seydoux, a typically sexually alluring Jacquot leading lady, stars as Sidonie, a servant in the court of Louis XVI who has managed to rise to the position of lectrice, or reader, to Queen Marie Antoinette (a lectrice is just what you'd think, a servant who saves her mistress from the problems of near illiteracy). Sidonie is extremely ambitious; she wants to join the queen's closest circle and enjoy a life of privilege and luxury despite a background that makes that impossible.
Jacquot spends a lot of time following Sidonie as she makes her way through the back corridors of Versailles. Perhaps uniquely among the palace's residents, Sidonie is able to note the exactitude of class differences (even differences within the classes), how these differences are meant to support the monarchy, and how she might use those differences to her advantage.
There's a piquancy to Sidonie's efforts, because the French Revolution is literally in its first days; the world she wants to inhabit is about to be guillotined. Jacquot uses both conventional and unconventional means to chart its progress. The most fascinating is the depiction of Marie Antoinette, played by Diane Kruger. When the movie opens, Marie is childlike in her enthusiasms and beauty. But as time passes, her looks fade and her attitudes coarsen. Reality is seeping through the castle gates.
Jacquot is generous to the women of his films and no less so to Sidonie than to any others. That she finally gets a peek of her dream is not just pleasing but, Jacquot persuades us, just.
17 Girls, written and directed by sisters Delphine and Muriel Coulin, is based on a well-known American news story about a group of high school girls who agree to get pregnant all at the same time. The Coulins keep the story from slipping into TV drama largely by delving into the character of three or four of the girls deep enough to turn a plot into a story.
Veteran star Daniel Auteuil takes the directorial reins in order to lead himself through a remake of The Well Digger's Daughter (La Fille du puisatier), originally written and directed by the prolific Marcel Pagnol in 1940. Pagnol specialized in the rural form of poetic realism, and if he romanticized the peasants and villagers in his films, he was at least starting from a firsthand familiarity with them and their world. Auteuil shoots virtually his entire movie in close-up and, given that there is Pagnol's original novel and movie, it's hard to see anything on the positive side Auteuil brought to production.
The Intouchables is one of those capitalist fables about a sick and depressed rich person encounters a poor one who reintroduces him to the pleasures are life. This version is more polished than most, but that hardly means much.
The Minister (L'Exercice de l'Etat) is a climb-the-greasy-pole political drama with a nice twist. The ethical questions which are usually reduced to oversimplifications are examined in their fullness. Here, the politician has to grapple with which ethical directive he must follow: keeping his promises to a world which he knows quite well, or transferring his loyalty to a larger world. Olivier Gourmet is excellent as the politician, but the best performance – and best part – belong to Michel Blanc as his attaché.s